Monday 6th July 2020 Elm Class learning
Welcome back to Monday, hope you all had a fantastic weekend and are ready for the week!
Spellings: This week, we are going back to looking at adding the suffixes able/ably and ible/ibly to words. I have attached posters to this post which explain the rules. Usually, able/ ably are added to words, where the full root word can be heard before the suffix such as enjoyable. Ible and ibly are usually added when the full root word cannot be heard, such as terrible and terribly.
Arithmetic: This week, we are going back to revising finding percentages of amounts. On the class webpage, I have attached a percentages knowledge organiser to help you if you are stuck cannot remember how to find certain percentages.
Here is how to find some of the common percentages:
10% = 1/10, so divide the number by 10.
5% = 5/100- find 10% and half your answer.
1% = 1/100, divide the number by 100
25% = ¼, divide the number by 4
50% = divide the number by 2
75% = 3/4 , divide the number by 4, multiply this by 3.
Can you have a go at these?
58% of 620 =
45% of 700=
600% of 500=
35% of 540=
Grammar: This week, we are going to look at synonyms and antonyms! A synonym is a word that has a similar meaning to another word, while an antonym is a word that means the opposite. Can you have a go at the activity below, matching the word to a synonym and its antonym?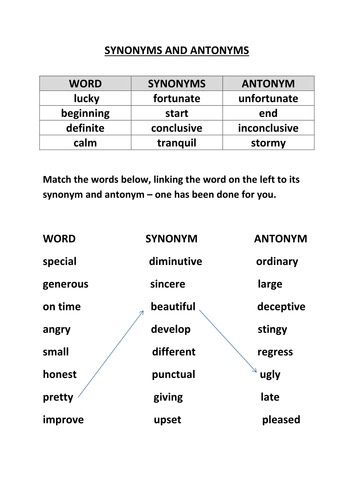 English: L.O- To compare Green Lake from past to present.
Can you go back to the book and read the beginning of chapter 23, a description on Camp Green Lake 100 years ago.
Things to consider and discuss:
Which parts of this description do you like? Why?
Consider the use of commas in the passage. How have they been used? Do they add to the description? Why didn't the author use any short sentences in this description?
What has changed in 110 years? I would like you to write a description of Green Lake nowadays. Can you make sound like the description above but make it sound far less beautiful? Use a thesaurus to improve your vocabulary and try to use long sentences with different types of commas in.
Maths: L.O- I can use the inverse operation to work backwards and find missing numbers,
This week, we are starting a week on using algebraic skills in Maths. Can you have a look at the suggested activities below and how these skills build up our knowledge of being able to use algebra in Maths.
Topic: Please find attached, or see the class webpage for the list of activities this week. In our topic this week, we are focussing on art that has originated from Mexico!
Thank you for your continued support,
Miss Coates.