Click on the picture to find out about our Science Improvement Focus – The SAW Project.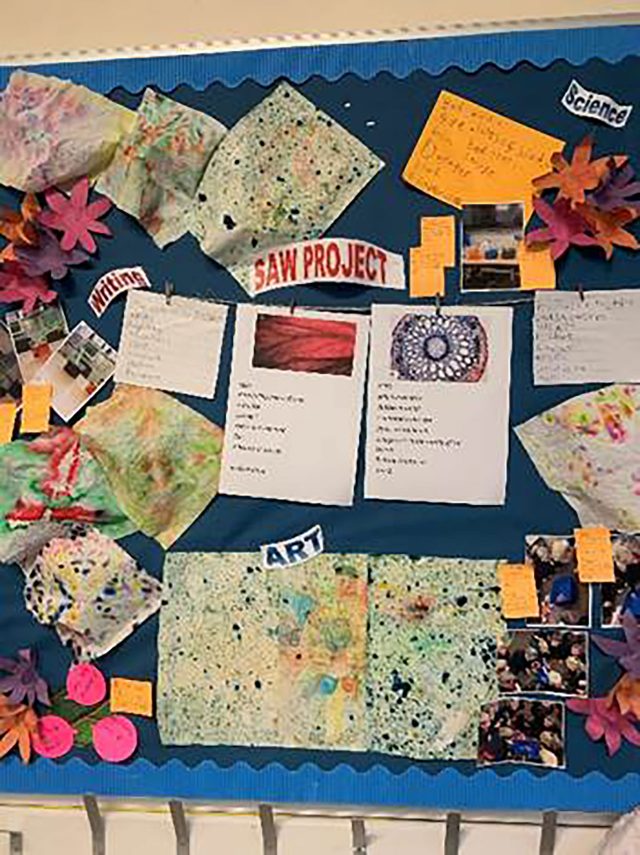 Science and the Curriculum
Early Years Foundation Stage (EYFS)
In the EYFS, science is included within the Understanding the World area of learning. As with other learning in Reception, your child will mainly learn about science through games and play – which objects float and sink during water play, for example. Activities such as these will help your child to develop important skills such as observation, prediction and critical thinking.
Key Stage 1 (Year 1 and 2) and Key Stage 2 (Year 3 – 6)
The National Curriculum 2014 for primary schools in England states the purpose and aims of the curriculum below. The purpose and aims underpin what we teach at Churchside.
PURPOSE OF STUDY
A high-quality Science education provides the foundations for understanding the world through the specific disciplines of biology, chemistry and physics. Science has changed our lives and is vital to the world's future prosperity, and all pupils should be taught essential aspects of the knowledge, methods, processes and uses of science. Through building up a body of key foundational knowledge and concepts, pupils should be encouraged to recognise the power of rational explanation and develop a sense of excitement and curiosity about natural phenomena. They should be encouraged to understand how science can be used to explain what is occurring, predict how things will behave, and analyse causes.
AIMS
The National Curriculum for Science aims to ensure that all pupils:
Develop scientific knowledge and conceptual understanding through the specific disciplines of biology, chemistry and physics
Develop understanding of the nature, processes and methods of science through different types of science enquiries that help them to answer scientific questions about the world around them
Are equipped with the scientific knowledge required to understand the uses and implication of science, today and in the future.
If you would like to learn more about what each year group will be covering see our Science Long Term Plan as well as the Science Programme of Study for each year group.
---
Science at Churchside
At Churchside we encourage a natural curiosity in Science. Most science teaching will involve plenty of 'hands on', practical activities. Children will be given plenty of opportunities to ask questions, make predictions (hypothesise) and test their predictions, in line with "working scientifically" from the National Curriculum.
Wherever possible, we teach science through our themes in a cross-curricular way and as the children progress through the school, more emphasis is placed on them linking what they've learned in science lessons to other fields of science, but equally importantly, applying their science knowledge in other subject areas in a cross-curricular way.
As science remains one of the main core subjects in primary school, alongside English and Maths, it is highly valued at our schools. It can be one of the most exciting and practical subjects and, as a result, is a real joy for teachers and pupils. Children love the chance to learn through experimenting and finding things out for themselves – the perfect way to understand the world around them. Our outdoor learning approach allows children to learn all about nature in nature. A positive primary science experience is key to encouraging future generations to not only study this at secondary school, but also potentially to follow it as a career.
Both spirituality and science are concerned with understanding the fundamental nature of the universe and our place within it and therefore they are inherently intertwined.
At Churchside we encourage provide opportunities for pupils' SMSC development through examples such as:
Encouraging pupils to reflect on the awe and wonder of the natural world.
Awareness of the ways that science and technology can affect society and the environment.
Consideration of the moral dilemmas that can result in scientific developments.
Showing respect for differing opinions, on creation for example.
Co-operation in practical activity.
Raising awareness that scientific developments are the product of many different cultures.
Science Games and Fun Learning
www.sciencekids.co.nz/gamesactivities.html
www.sheppardsoftware.com/science.htm
www.primarygames.com/science.php
Useful links
www.bbc.co.uk/programmes/b00hxp2v/clips
www.bbc.com/bitesize/subjects/z2pfb9q
www.stem.org.uk/resources/elibrary/resource/25416/do-try-home
explorify.wellcome.ac.uk/blog/british-science-week-2019