At Churchside Federation, we have developed a clear writing framework which is followed in all year groups across both schools. The children are taught the necessary writing skills by analysing a good example of the text type (WAGOLL) and then by breaking down what they need to learn about from the examples in the WAGOLL text. They are then taught these skills before applying it to an example text which lacks the necessary features or uses them improperly (WABOLL). After learning these editing skills then apply their knowledge to their own piece of written work, either in an English lesson or in another subject.
This sequence of learning is supported with a short-term display which develops over the sequence and follows the structure shown here. Examples are given for each element of the text type and children are encouraged to add to the display when they find or write good examples. An additional display is made of the 'ingredients' or key features of the text in the form of potions. These are added to a potion book at the end of a unit for children to use if they are writing the particular text-type again in an English lesson or in other subjects.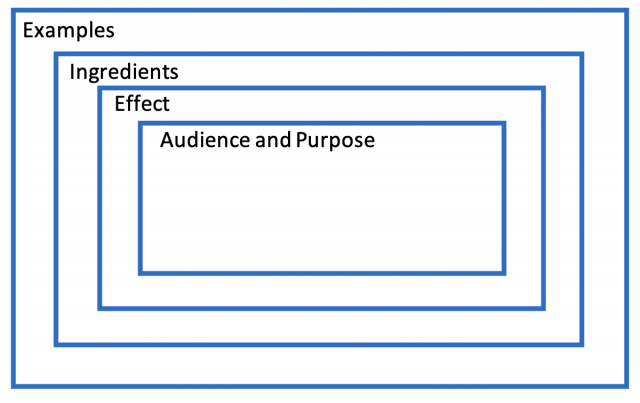 What does writing look like in different year groups?
The children are expected to complete a variety of writing across the curriculum. All year groups follow the WAGOLL sequence detailed above but the expectation in terms of length and detail rises per year group. Teachers model an enthusiasm for writing and make the purpose and audience clear. Where possible, this purpose is real (for example, writing a letter to an author).
"If you want to be a writer, you must do two things above all others: read a lot and write a lot." – Stephen King
The method of teaching English at the Churchside Federation is through the idea of reading as a writer and writing as a reader. Each sequence of learning is considered in this way to ensure that the children are making links between what they are reading and what they write.
The writing journey throughout Churchside has a clear focus on the skill progression, including understanding of more complex grammar and punctuation. The progression of skills document can be found to download on this page.
Expectations for writing in all year groups can be found in the expectation booklets on the class pages.
How can you help at home?
There are many ways in which you can help to support your child's writing at home. There are many websites which can help with grammatical elements of writing through games and fun activities. One such website is:
https://www.bbc.co.uk/bitesize/primary
As a school we use Spelling Shed to teach the children spelling rules. We have found that completing traditional spelling tests may help the children temporarily to remember the trickier spellings but in order for these to be embedded they should be used in the children's writing. Encouraging you child to use their spellings in writing can help to secure this knowledge.
Children find it easier to be motivated to write if they have a real purpose. There are many writing competitions which can be found on the internet related to poetry or story-writing. Equally, asking the children to write a letter to a friend or family member, or to write an information text about their favourite animal to teach someone to look after them can be a very valuable writing experience for your child. Perhaps they could write down their favourite family recipe to teach their teacher!
Big writes
Every term, all of the children are tasked with completing a big write inspired by a picture sent from Mrs Godbold. After completing some drama or a class planning session, the children love having the opportunity to show off all of their writing skills in a piece of creative writing.
"You can make anything by writing."
–C.S. Lewis